Uses of NFC tags? First of all what is NFC? NFC basically stands for Near Field Communication, it may sound like a dry, technical specification but is is way more worth considering and interesting.
It's a wireless technology for contactless payments, headphone pairing, some level of automation, and ofcourse data sharing. There are so huge and common uses nfc and uses of NFC tags in daily life.
You know that contactless payments are facilitated by NFC. So when you pay using your phone by Google Pay or Apple Pay, the transaction is initiated via NFC.
What is NFC? And uses of NFC tags
Abbreviations of NFC is Near field communication and it is a set of communication protocols between two electronic devices that enable devices to develop a communication by bringing them within 4cm of each other.
Generally, this comes in 2 forms
1. Device-to-device communication
2. Tags.
Basic method for interactions, is between a device like a smartphone and a readable NFC tag. These NFC tags are small, cheap, and unpowered. This is why because the reading device,mostly your smartphone, can generate a Radio Frequency (RF) field that will power to the tag.
If you have an NFC enabled smartphone, then you'll need to buy NFC tags for interaction. Many types of NFC tags are available, ranging from affordable in-home tags to expensive industrial use varieties depends on the use of it.
You also have to download an NFC tag writer app to your smartphone. NFC-enabled iPhones can read tags without additional software, but your experience may vary on Android.
Download this app "NFC TAG TOOL" from play store and enjoy using this technology.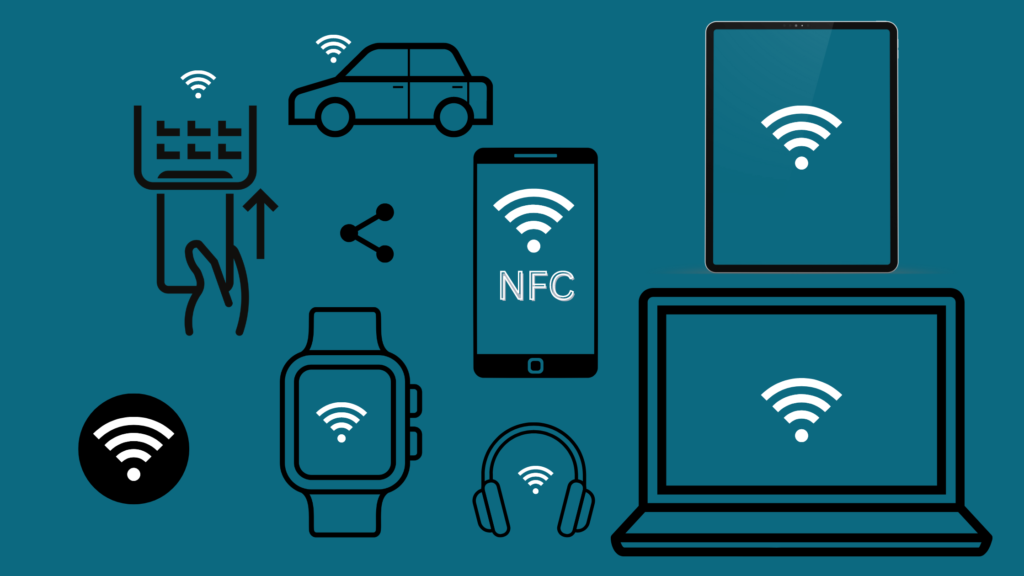 Best ways of uses of NFC tags
There are plenty of uses of NFC and uses of NFC tags so that you can get started with right away. NFC tags have countless uses, here we are sharing with you the best ones. Top 10 uses for NFC tags and more.
1. NFC tags as a virtual business cards
Your very own customizable business card. Simply program your contact information, social media details and your website on the NFC tag and you're ready to go. They help you stay in touch with new contacts and remind people who you are and what you do.
2. Get Yourself Out of Bed
Sounds interesting? Waking up in the morning can be challenging for some people, even the most annoying alarm clock doesn't help. In that case, use NFC tag to motivate you to get out of bed instead. Apps like Sleep As Android integrate alarms with NFC tags through the use of in-app captchas.
These aim to verify that you have acted by making you interact with a physical item. Use the app to write an NFC-based captcha, then only way to disable the alarm is to venture out of bed, find the NFC sticker, and tap your phone against it
Intresting uses of NFC tags
3. Instantly Connect to a Wi-Fi Network
Wi-Fi passwords are lengthy and complicated. You can replace this process with a single tap, by writing your Wi-Fi password to an NFC tag. A tap on the tag will automatically establish Wi-Fi connection by saved details and get you online without any fuss.
4. Automatic Driving Mode
Only some Android smartphones can do this, majority of them can't perform this function. But
iPhone users can absolutely can do this. In this when you connect your phones to vehicle's in-car entertainment system, their phone will automatically enter Driving Mode. And this silences notifications and optimizes your setup for your journey.
And if you want to automate this whole process, then you can write the tasks to an NFC tag. And when it is placed inside the car, just a phone tap can perform many functions like enabling Do Not Disturb Mode, turning on or off data, and opening your navigation app.
Also check our post on - Why Android Google Messages Is The Best & Trusted?
Uses of NFC tags
5. Connect to your car with an NFC tag via Bluetooth
Now every car have Bluetooth-compatible radio or headset system. You can use an NFC tag to turn on your Bluetooth. Your smartphone will automatically connect to your radio or headset and let it play your favorite playlist.
6. NFC tags for making onlin payments
As we mentioned earlier, NFC enables contactless payments when using services like Google Pay or Apple Pay. Thanks to this technology, payment is starting to go mobile. NFC provides secure storing of your credit card information and enables you to pay for goods by simply tapping on the payment terminal. In many places around the world, contactless payments have become commonplace.
Both Apple Pay and Google Pay allow you to keep track of your spending, analyze your habits, and store coupons. Additionally, opting for NFC payments means you no longer need to carry other payment methods alongside your phone.
Some cool uses of NFC tags
7. Helps in Launching a Website
There might be times when you want to direct someone to a specific website. This can be a bit tricky, especially if it's not a simple website address. Program your NFC tag to launch any website. Instead of having them type out a long random URL, you can write the URL to an NFC tag. When tapped, it loads the user's mobile browser and directs them straight to the site you wanted. This can save a lot of time because they don't have to type those long website addresses and helps you in your work.
8. Automate Common Phone Tasks
Using NFC, you can set up shortcuts for some actions. Android and iOS now have methods of automating regular tasks, but they don't always. Using NFC, you can set up shortcuts for actions like calling a specific friend or family member, or Program your NFC tag to send morning texts to your special someone or use the tag to respond to people while driving. Program the tag to automatically reply "I'm driving, text you later" to the last received text, so that you can focus on the road, or opening your camera, or running your favorite streaming service as you leave the house.
Uses of NFC tags
9. Share Media via NFC tags
Have a friend with an NFC–enabled phone? Bump your phones to share photos, playlists, or videos. Also if you create videos for YouTube, stream on Twitch, or release music on Spotify, one of the biggest challenges is getting people to see your content in the first place. You can overcome this hurdle with NFC.
It's possible to embed a link to your work on the NFC tag and then strategically stick it somewhere that'll get people interested. Just be sure to explain what is on the tag, as people may be wary of the notable NFC security issues.
10. Lock or Unlock your door with NFC tags
If you have a smart lock in your home you can use NFC tag to lock or unlock your door. Also you can store data from your contactless card.
Some oother uses of NFC tags
11. Extend your phone's battery life using NFC tags
WiFi, Bluetooth, and other external sources can drain your phone's battery. You can program an NFC tag to turn off these battery-draining accessories until you want to turn them back on.
12. Turn on your phone's hotspot by NFC tags
With an NFC tag, simply tap your phone to the tag and it will automatically fire up the phone's hotspot capability. Perfect for on–the–go when you need a quick access point for your laptop or tablet.
13. Switch on or off silent mode on your phone by NFC tags
If you're a light sleeper, have the NFC tag toggle your phone from vibrate to silent, allowing you a peaceful night's sleep. In the morning, tap the phone back to the tag to return it to the original setting.
These was the some uses of NFC tags. Hope you like it.